What is K Laser?
Published on December 12th 2022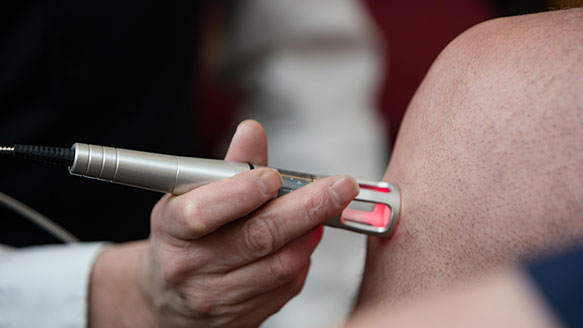 As the New Year rolls round in it's the time of year we often see new clients looking to resolve aches and pains from the previous year gone by. With many new year's resolutions based around spending more time looking after themselves or working on fitness goals which often causes old injuries to return you may be seeking treatments to fix ailments. 
Here at Anglia Chiropractic we've been treating patients with k-laser therapy for many years. Perhaps you're here because you've heard that a friend or colleague has previously had treatment or perhaps hours of searching on the internet to reduce pain has led you to find laser therapy treatment. Whatever your reasons we're always here to answer your questions. 
What is K Laser treatment?
K Laser therapy uses selected wavelengths of light to stimulate key molecules in human tissues. The laser interacts with tissues at a cellular level, meaning higher levels of ATP are produced. This leads to a higher level of metabolic activity initiating the release of nitric oxide leading to cascade of beneficial effects increasing cellular function and health benefits. This is a safe and non invasive technique that uses the body's own reparative processes.
Born from scientific research over 30 years ago, laser therapy is an alternative to surgical procedures, without the use of drugs, and doesn't have any side effects. 
What are the benefits of using K laser 
K laser has fast and effective results, with deeper penetration the lasers accelerate how fast the body heals. Patients of laser therapy will experience improved range of motion and function, with a reduction of inflammation. 
No, during each painless treatment increases circulation drawing water oxygen and nutrients to the damaged area creating an optimal healing environment that reduces inflammation swelling, muscle spasms stiffness and pain as the injured area returns to normal function is restored and pain is relieved. 
Occasional effects due to stimulation of the target tissue, which are temporary, might include: –
A temporary increase in symptoms during application of the therapy
A temporary increase in symptoms within 24 hours after laser therapy.

As the healing process is more active after treatment, there may occasionally be a transient and self-limiting increase in symptoms, however this is a normal response and should not be interpreted as an adverse event.

A mild bruising from vasodilation (rarely reported)

A reaction to photosensitizing drugs (which is a theoretical precaution
What happens during K laser therapy? 
Whilst receiving treatment you will be given safety glasses that you must wear during your session to protect your eyes from the infrared therapeutic beam. The therapist will direct the laser light onto your skin using a small probe, this will be moved over and around the treatment area, you may feel a warm sensation however you will not feel any other side effects. 
We're proud to provide the highest quality treatments to our patients. Always offering expert care at affordable and competitive prices. As an essential healthcare service we are permitted to continue operating during the lockdown and treat patients new and old for pre existing or new injuries. Contact us today on 01603 414740 or send an email to book an appointment or for more information.