Patient Care Above All At Anglia Chiropractic 
Published on October 26th 2023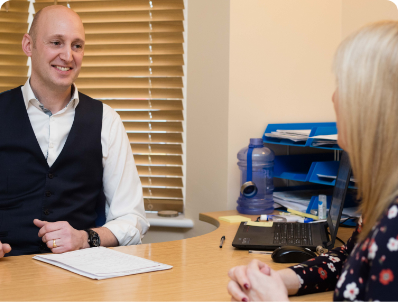 When it comes to Chiropractic care, we focus on understanding your pain and resolving the root cause above all else. We of course aim to have all of our patients pain and symptom-free, but also understand that sometimes chronic pain is something that can only be managed. By treating the root cause of your pain, we can together create a care plan which is truly tailored to you, your pain and your lifestyle.
Initial steps
Consultation timeframe
Our initial consultation is the first step towards recovery, and the time in which you take this step is crucial. Carrying out a thorough initial consultation soon after the injury or pain occurring could be the difference between a fast, pain-free recovery and a longer-term chronic pain management plan. 
Getting to the root of your issue
When coming to us with a recent, acute injury which occurred during physical activity, for example, if you rolled your ankle during a football match, it can often be easier to understand the root of the pain and in turn, easier to aid the recovery process.
However, the pains often more difficult to diagnose are the longer-term, chronic pains or pains which have appeared almost out of nowhere. These types of pains are where our many years of combined expertise really come into practice. We can assess your movements and posture and ultimately try to work out the root cause of this pain.
Understanding your pain
The next stage of understanding the cause and or the reasoning behind your pain is the first step to recovery. We always ensure you, the patient, truly understand the pain that you're feeling as only then can you start to recover. Whether it be how or why it occurred, how to prevent it in future, or even how to manage it for the time being, coming to terms with your pain will ensure the healing process can be carried out effectively and efficiently.
Honest, ethical & bespoke chiropractic care plan
Our patient-centred approach differs greatly from other healthcare experiences. We do not operate a one size fits all plan when it comes to our treatments – we approach each and every patient with a fresh mind and will tailor all of our treatment plans to your specific pain needs. Though all of our treatment plans are bespoke to the individual, we still follow a three step overall process as a guide to how we believe is the best way to treat and manage any pain being experienced.
Relief
Initially, whatever your pain, we will focus on treating the cause of the problem, which, more often than not, will include immediate pain relief. Our pain relief plans are bespoke to you and your pain and are often carried out through more frequent treatment visits and some experienced advice from our experts for your at-home relief between treatments.
Recovery
As your symptoms start to decrease, we will carry out a second assessment. At this point, a gradually decreasing frequency of visits is often required. While fewer visits are required, continuing to manage your pain and repairing the injured tissue through continued care and our specifically tailored home exercises is the main element of this recovery step.
Maintenance
Put simply, our 'final step' is to provide a journey beyond your symptoms in order to help you get well and stay well. Depending on the person, we may require in-clinic treatments in intervals to maintain and support your condition, but overall our maintenance plan is to provide you with the means to reduce the risk of symptoms reoccurring or being a problem in the long term.
Treat your pain today
We pride ourselves on providing evidence-based, effective and affordable care, the success of which is reflected by our large repeat patient base and referrals. So, if you too have recently experienced an acute injury or have been suffering from chronic pain for a long time, don't hesitate to get in touch and book your initial consultation with one of our highly qualified, friendly chiropractors.