Lockdown Aftermath – We've got your back
Published on September 14th 2021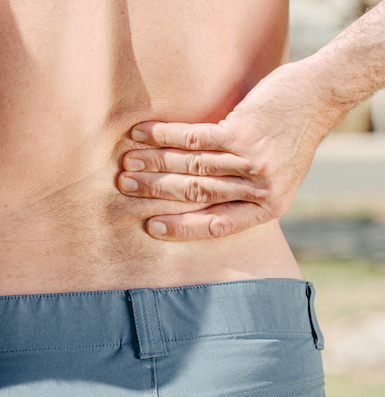 With such drastic changes in the ways in which we work in the past couple of years, it's become increasingly difficult to take the time to ensure we are looking after our bodies. The sudden switch to working from home has forced many to make do with the spaces within their own homes. In most cases, it was unlikely that you already had a dedicated space for a home office. Having to improvise and create a makeshift office, sometimes at the kitchen table or sitting on the sofa, the impact of the pandemic reaches further than initially thought, with our back health taking the brunt of these makeshift home offices. So if you're still working from home, or even if you've returned to the office, what can you do to improve your neck and back aches and pains?
The impact of home working
Working from home has resulted in a difficulty to get the correct work-life balance, often resulting in longer hours spent at your makeshift workstation. This has resulted in an influx of neck ache (often referred to as 'laptop neck') and back ache cases. Whilst most office spaces have an obligation to provide a workspace which is ergonomically designed, there are no such requirements when it comes to ergonomic provisions whilst employees are home working. Home-working, however, was not detrimental to all, with some of our clients reporting more freedom to move about more, improving their posture and has even led to a decrease in levels of pain, which are often experienced when seated for long periods of time. Those less fortunate, who have been working from their sofa, kitchen table or in some cases, from their bed, have reported the opposite, with increased pain and decreased mobility.
Issues Experienced
The problems experienced as a result of lockdown and working from home are varied, and it's important to seek help sooner rather than later. Some of the most common problems include:
General aches and pains, often experienced in the lower and upper back and neck. You should not ignore these aches and pains, as the longer they are left the worse they can get.
Postural fatigue of muscles, resulting in muscle soreness and aches.
Headaches and migraines which can result from poor posture.
Shoulder impingement, this is where "a tendon inside your shoulder rubs or catches on nearby tissue and bone as you lift your arm" (NHS). This causes localised discomfort in your shoulder whenever you raise your arms.
Disc problems and Sciatica. Sciatica "is where the sciatic nerve, which runs from your lower back to your feet, is irritated or compressed" (NHS). Disc problems can range from slight inflammation to a slipped disc, which can be completely debilitating.
RSI (repetitive strain injuries) aren't uncommon within the workplace, but have certainly improved in recent years as our understanding of ergonomics has improved. However, due to the lack of provisions for home working, cases of RSI have sharply increased in recent months.
What can you do?
It's important to be aware of the early warning signs for the problems listed above, and one of these are pain signals, it's your body trying to warn you that something isn't quite right. Injuries are often sustained in one of two ways: a high load over a short period of time, or smaller, repetitive loads over a long period of time. The latter is often the way in which the problems lots of desk workers experience are sustained. This is because muscles can hold a contraction for a limited amount of time until a gradual fatigue occurs. A gradual fatigue causes an increased biomechanical loading of your joints, muscles and other soft tissues, thus resulting in pain. In addition to this, if an underlying condition is present it can result in an increased occurrence of pain and stiffness.
Posture & ergonomics
It's important to be aware of your posture, and how to sit correctly whilst working, be it from home or in the office. A great way to do this is to ensure that you have ergonomic furniture and equipment, these are specifically designed to ensure maximum comfort and support throughout use. Try to make sure your ergonomic furniture is fully adjustable, as we are all built differently, it's important to be able to adapt your set up to your height and size. Sit stand desks are a great solution, so you can adjust it to exactly the height you require, but you can easily go from working whilst sitting to standing, giving you more freedom of movement and encouraging various positions, decreasing the risk of muscle fatigue.
Micro breaks
With this in mind, you should always take frequent breaks, get up from your seated position and take some time to stretch your legs and move about. Micro-breaks are the key to avoiding pain and in reducing the risk of long term conditions.It's important to remain active throughout the day, We would advise you to change positions at least every 30-40 minutes as again, this will reduce the risk of repetitive strain injuries.
How to avoid 'Laptop neck' 
Laptops are great, allowing us to work from home more easily, but they do come with certain risks, mainly, what is commonly referred to as "laptop neck". Using a laptop increases the chances of incorrect seating positions, thus leading to back and neck pains. To decrease the risk of laptop neck, it's advisable to use a separate mouse and keyboard and put your laptop on a stand. This allows you to have your arms and wrists at the correct positions, and have your screen at eye level, thus reducing the strain on your neck from having to look down all of the time. You should also have your laptop and stand on a level base where there is also a place to rest your arms, otherwise they will begin to ache due to muscle fatigue. Again, take regular breaks.
If you've been affected by any of the above due to working from home during lockdown, whilst the above may ease the aches and pains, it's best to get these issues addressed. Here at Anglia Chiropractic we are trained and experienced chiropractors, and our priority is always you. If you feel that you would benefit from a consultation, then be sure to get in touch today on 01603 414740 and speak to our friendly team who will be more than happy to help.