Good Posture in the Workplace
Published on July 9th 2018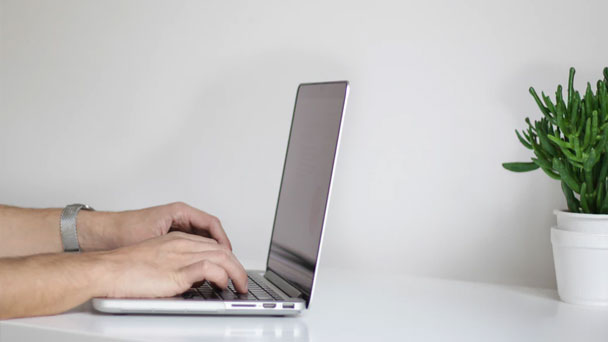 UK adults spend as much time at screens and using smart devices as they do sleeping. Ofcom state that UK adults spend a daily average of 8 hours & 41 minutes on media devices, the average nights sleep is just 8 hours and 21 minutes.
With so many of us static at our desk or sedentary at home, we are seeing a rise in the amount of posture related complaints.
What can you do to improve your posture?
Of course, as experienced chiropractors we are able to offer you the best advice to improve your posture during a one to one consultation and you should always seek professional advice if you are experiencing pain.
To improve or maintain your posture, we highly recommended that you stay active during the day, take regular breaks form your desk and avoid prolonged sitting positions – but we also recognise that during a busy day at work this isn't always practical, so there are some simple steps you can take in-between your chiropractic sessions.
Our 5 tips to improve your posture whilst sitting at your desk
Change positions regularly
Even if you are restricted to stay at your desk, make a point of moving around on a regular basis. Even if it's only to stand up and stretch out. If your space allows it, consider a sit-stand desk or active workbench, that allows you to alternate between sitting and standing whilst your work remains uninterrupted.
Keep it straight
It's something that so many of use naturally do but crossing your legs and your ankles whilst you are sitting puts strain on your knees and hips.
It's a difficult habit to break but try your best to avoid crossing your legs. You should aim to keep your feet flat on the floor too. If you can't comfortably sit with your feet flat on the floor, be sure to ask your employer for a foot rest.
Choose your furniture carefully
Have a chair that is supportive for your individual spine and is comfortable for those periods of time you are not able to get up and about. No two spines are the same and a chair that suits one person may not suit another, although an ergonomic desk chair can help to ensure your support and comfort.
Consider your head! 
It is easy for your head to be tilted up or down, even if only marginally, based on the position of your screen. This applies too when you are looking down at smart devices but take a moment to consider that the human head weighs between 10lb to 14lb. Tilting your head forwards loads the joints and muscles considerably, with every inch of forward head carriage increasing the load by 10lb. Understandably this strain can lead to join and muscular pain alongside tension in your neck and shoulders.
Set your computer screen at the correct height to prevent unnecessary strain, ideally with your eyes in line with the top of the screen.
Don't underestimate your desk
In the absence of the availability of a sit stand work station, be sure to set up your desk correctly. You should be provided with a desk risk assessment by your employer's HR team, who will help to check that you are sitting comfortably.  Your desk should be at an appropriate height and the tools you require to carry out your daily work should all be within easy reach. You should not be stretching to reach the keyboard and equally shouldn't be hunched up, answering the phone, too, should not cause you to twist or reach across your body.
Good posture is so important to us, not just because it helps to alleviate aches and plans, but also it has been shown that those with a good posture have increased confidence and are generally more positive than those who slump and slouch. So, when you are sitting at your desk this week, put your posture into focus – we are confident you will see the changes.
If you would like to find out more about your posture, we encourage you to arrange a consultation with us, please give us a call on 01603 414740 and we'll be very happy to help.